Each May, organizations throughout the United States work to acknowledge the foster families, adoptive families, kinship and family members, child welfare professionals, judicial professionals, volunteers, mentors, and policy makers who support the well-being of children and youth in foster care.
There are 407,000 children and youth in foster care in the United States and approximately 11,000 children and youth are in foster care in NC.  The Month of May is an opportunity to highlight and honor the individuals who work with those children and youth and their families to ensure permanence and secure connections. It is also a time to reaffirm the commitment of the entire community to ensuring the successful futures of these children and youth.
Each year, a theme is chosen to focus on by the Children's Bureau. The 2022 theme for National Foster Care Month is Relative and Kin Connections: Keeping Families Strong.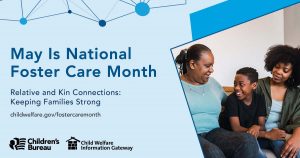 "The Children's Bureau's National Foster Care Month campaign recognizes the important role that members from all parts of child welfare play in supporting children, youth, and families. Learn more about this year's theme on strengthening relative and kin connections and the positive impact these relationships have on maintaining family and cultural ties for children and youth in foster care." – The Children's Bureau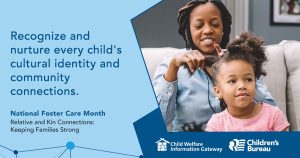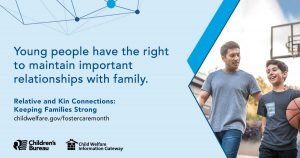 To learn more about this year's campaign and read stories of foster care centered around the amazing role of relatives and kinship providers in the foster care system, visit National Foster Care Month – Child Welfare Information Gateway.